UPMC St. Margaret is located in suburban Aspinwall, just 15 minutes from downtown Pittsburgh. Aspinwall is a delightful mix of tree-lined residential streets combined with convenient shopping malls as well as quaint boutiques, specialty food stores and antique shops. Housing opportunities in Aspinwall are plentiful and range from large old houses to modern townhouse or apartment complexes.
Those who come to Pittsburgh to be part of the family medicine residency at UPMC St. Margaret will find themselves coming to one of America's safest, loveliest and most affordable cities.
Pittsburgh is the only city to consistently rank in Rand McNally's most livable American cities. Downtown Pittsburgh is a glittering collection of skyscrapers in a dramatic setting: two rivers, the Allegheny and the Monongahela, flow together to form the Ohio River between steep hills. The Downtown contains not only the headquarters of international companies such as Westinghouse and US-X, but also the Cultural District. There, beautifully restored theaters provide homes for a world-class symphony, a nationally renowned ballet company, and a major regional theater company. Across the river from Downtown are PNC Park, a new baseball stadium, home of the Pittsburgh Pirates,Heinz Field, a new football stadium for the Pittsburgh Steelers,and the Carnegie Science Center, a museum of science and technology.
Pittsburgh also is the home to many Universities: The University of Pittsburgh, Carnegie Mellon University, Duquesne University, Carlow, Chatham, Point Park College, Robert Morris College, and The Community College of Allegheny County. The museums include the Carnegie Museum of Art, Carnegie Museum of Natural History, the Andy Warhol Museum, the "Mattress Factory", art museum which features cutting edge modern art, and many others. Pittsburgh also has a Zoo, an Aviary, Conservatory and Botanical Garden, theaters and music venues and many parks. Since Pittsburgh is a major city, it has restaurants, art galleries and shops.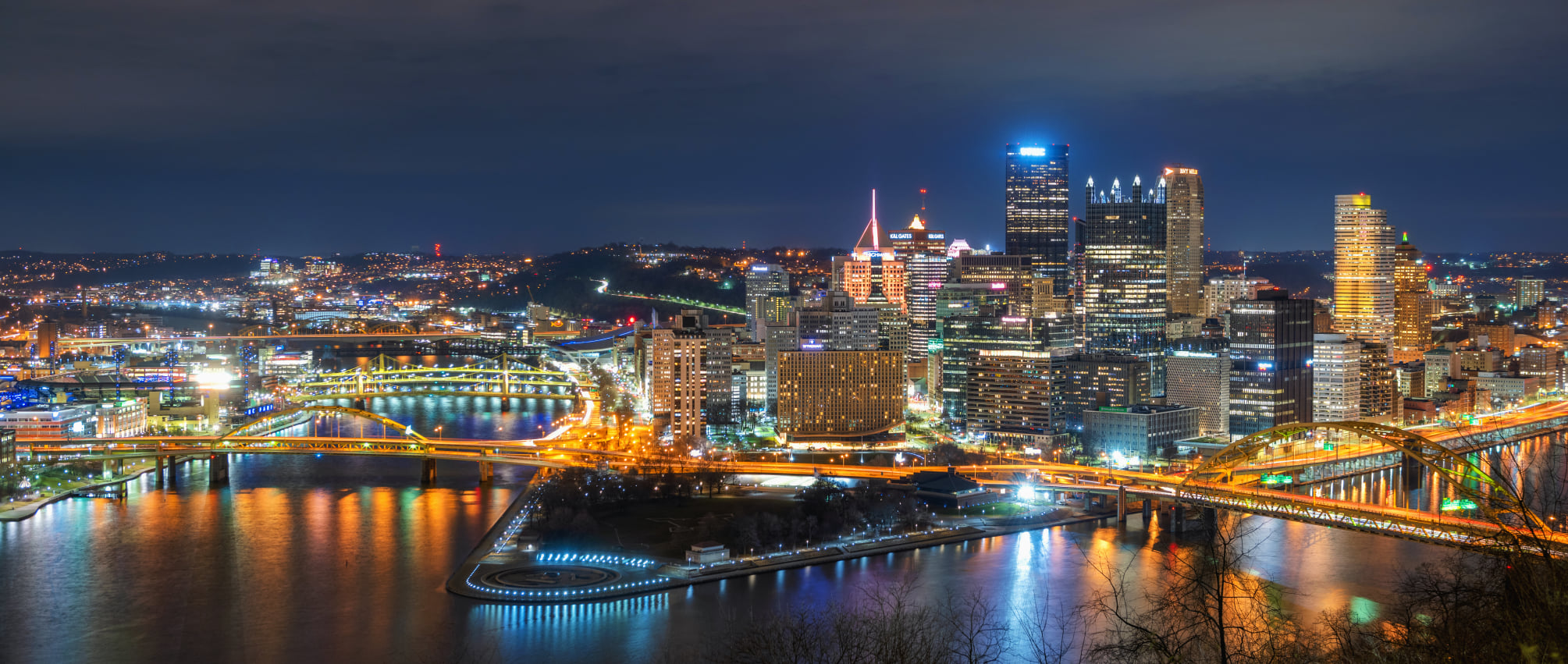 The area surrounding Pittsburgh has many other kinds of attractions as well. The Monongahela and Allegheny Rivers provide opportunities for boating and water sports. There are many trails for hiking and biking. Nearby Moraine State Park and Ohiopyle State Park offer spectacular scenery and some of the best white-water rafting in the eastern United States. To the east is the Laurel Highlands area,which has many resorts providing skiing during the winter, and golf, camping hiking, biking and boating during the summer. The brilliant colors of the autumn foliage season are breathtaking. Whatever your interests are, Pittsburgh's history and location will make it easy for you to explore and enjoy them.
Find out more information about relocating to Pittsburgh.